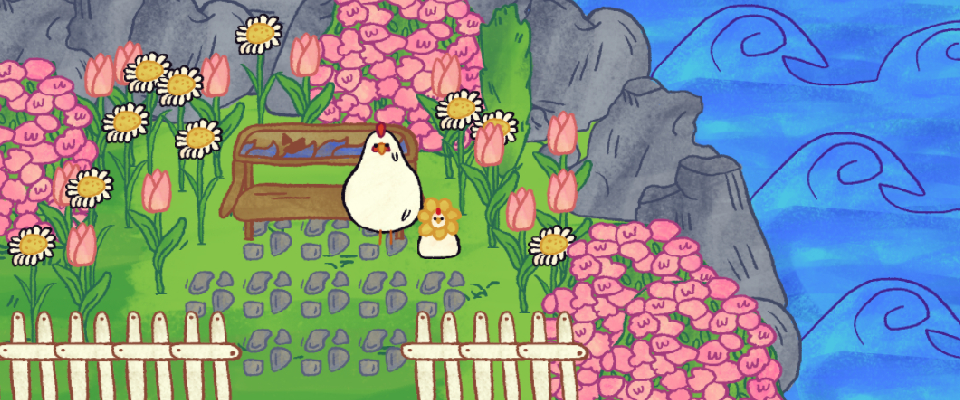 Capucine's Garden
(move with asdw or for french people qsdz)
🐔 Capucine's Garden 🌻
Spring is finally here and Capucine just moved to her new house, with a garden that is in need of a refresh. Let's get gardening !
Plant flowers, bushes and trees, place beautiful decorations, and create new paths. Make the most beautiful garden in this relaxing sandbox game, and don't forget to take a screenshot of your final garden and post it in the comments !
🌻🐔🌻🐔🌻🐔🌻
This game was made in 15 days or so, for the Great Spring Game Jam 2022 organized by Firith Studio. It was a real joy to work on this game, and I hope you can feel that in the game.
Special thanks to Ruca and Johan for their last minute playtest, and my sister for her enthousiasm.
Musics : Cross-country Flight, Family Holiday, The Game by Dee Yan-Key
Sounds are all from Zapsplat (wonderful ressources)
Palettes by Tofu (here)
My twitter where you can send me your garden picture ! I am maybe planning on continuing it, so if you have suggestion I'll be happy to hear them
Comments
Log in with itch.io to leave a comment.
WOW you should make it a fully fleged game like stardew valley. the game is so good.
much better than mine.
P.S Sry i was busy so i was not able to rate it.
Punaise mais meilleur jeux du monde excusez moi mais c'est magnifique et tellement de fun !!
the graphics are great and the movement of grass and trees when you go near them is great! you can actually make this game better by making the screen a little big cuz i cant see the text on it sometimes. I also like that it starts to rain sometimes!
this game is beautiful! holy shit, what a lovely lil experience!!! can absolutely feel the joy in it <3